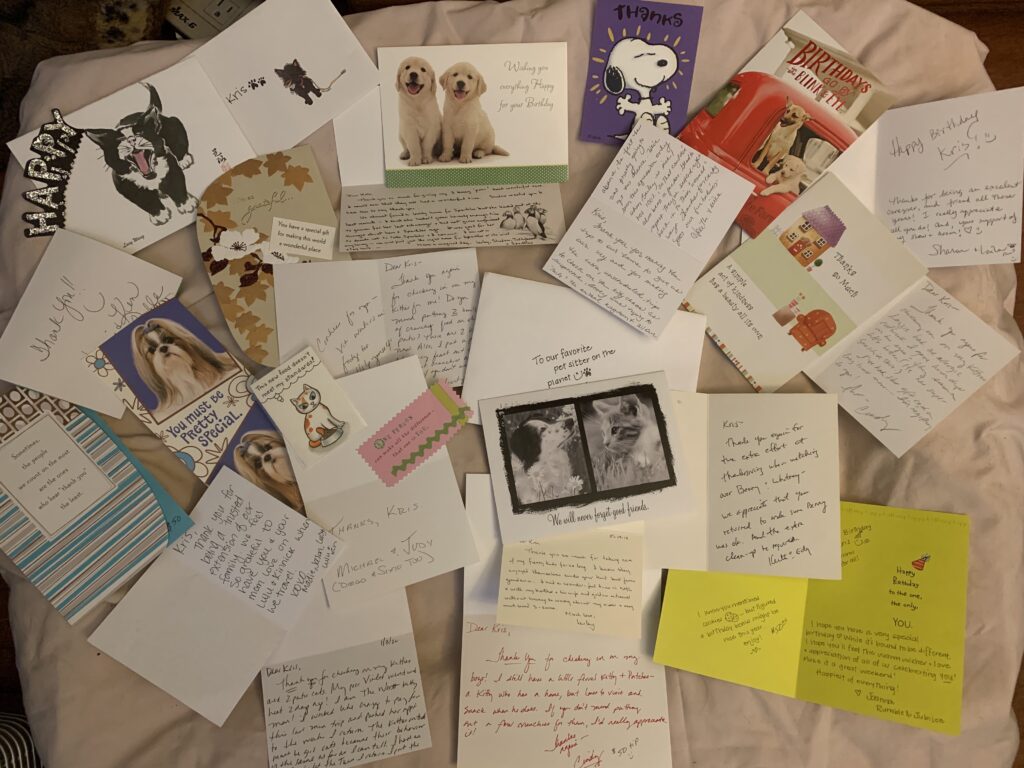 ___________________
Kris is a gem! She accepted my request to watch my 3 cats about 1 week before I went away. Kris is very professional and takes pet sitting very seriously. She showed up with contracts and had me fill out very detailed worksheets about each of my kitties. She also requested to have current vet summaries of my oldest kitty who takes daily medication for his thyroid condition. In case of an emergency she spoke of ER vets and had me place a cat carrier for each kitty in the living room so she could evacuate the boys in case of fires, etc. Kris gave a detailed report on my kitties activities while I was away. I have already made a request for her to watch my boys for this Thanksgiving as well. Thank you, Kris! My mind was at ease while I knew the boys were in your care!!
~ Cynthia M. San Diego, CA
________________________
Kris was very accommodating of my situation. I was in the area for a vet appointment but couldn't keep my dog at my hotel. I found Kris through a series of recommendations and she made sure my boy was taken care of. Her home was nicely set up with a secure, grassy yard and I felt completely comfortable leaving my dog with her. She texted me regular updates and took great care of him. I highly recommend!
~ Elizabeth P. San Diego, CA
__________________________
Kris is wonderful! She was very sweet and took great care of my dog. I even changed our pick up time several times and it ended up being very late at night by the time I picked my dog up. She had everything ready and I honestly think my dog didn't want to leave. I would definitely recommend Kris and Professional Pet Sit to anyone looking to leave their pet with someone who will give them TLC.
~ Candice C. San Diego, CA
_________________________
Kris Elig – Professional Pet Sit, is the most reliable, professional, compassionate, pet sitter there is. Kris has taken sterling care of my animals for many years, I trust no other. I even had a parrot that would not allow anyone to go near him, with the exception of Kris. Everyone I know employs Kris to care for their precious animals.
Thank you Kris for all the peace of mind and the above and beyond care you have provided to me, (and mine) over the years. You are Simply The Best!
~ Kathie Orr San Diego, CA
__________________________
We have been happy clients of Kris. She has hosted the three dogs we have had since moving to San Diego six years ago. We can travel without concern for the dogs' welfare or state of mind. It's a good feeling to have. I sometimes wonder if our dogs look forward to staying there.
~ Michael K. San Diego, CA
__________________________
We have used Kris multiple times to watch our 3 dogs of various sizes and ages. She has been wonderful and the dogs love her! Despite the COVID-19 issues, she has found a way to be flexible and safe to enable pet owners to drop off and pick up pets safely. We've trusted Kris to watch our dogs while we were out of town and had ZERO issues. Professional and caring are the two adjectives I would use to describe Kris!
~ Traci H. San Diego, CA
__________________________
Kris is the best.  My dogs love her!  I feel so much better leaving them in her care rather than a kennel where they don't pay attention to them and they are alone all day.  Kris is around them all day long and they get the love they need when I am away. Thanks Kris!!
~ Kat Z. El Cajon, CA
___________________________
We have been using this for over ten years.  They take care of your fur babies like they were their own. So much better than taking them to boarded at a place they don't know.
~James K. San Diego, CA
___________________________
We have been using Kris and Professional Pet Sit for over 10 years.  We have found Kris to be professional, dependable and trustworthy.  We trust her implicitly with both our  pets and our home.  Cannot recommend her highly enough.
~Michael S. & Judy Z. La Mesa, CA
___________________________
Kris is the most amazing cat sitter! She went above and beyond the usual feeding, playing, and litter box duties when I was travelling and Rosie kitty's body started to shut down. Kris went way out of her way to keep Rosie alive and comfortable until I came home from my off-the-grid travels. Another time, she boarded my two adolescent kitties so I wouldn't have to find a new sitter in my new community. I miss her and her exceptional service, but we're just too far away from each other now.
~Marie Winther  La Mesa, CA. 
___________________________
Kris at Professional Pet Sit is great and never disappoints. She not only stops by and performs her chores, but spends quality time with our cats and always takes their best interests to heart. I wouldn't hesitate to recommend her!
~ June R. Allied Gardens, San Diego, CA
____________________________
We love our furry clients and their paw-rents! To see more of our client reviews and to add your own, visit our Yelp! page.